One of my favorite things about living in Milan is the "aperitivo" also known as the Milanese happy hour. Every night between 6-9pm, restaurant and bar owners put out a buffet ranging from 5 to over 20 dishes to accompany your aperitif. Drinks typically cost between €6-€12 which include the aperitivo buffet. The most popular aperol drinks are the classic Aperol Spritz or the stronger and less sweet Campari Spritz. Both are made with appetite-inducing bitter herbs. Below is a list of my favorite places to go for Aperitivo. Map markers indicate: My top 5 favorites, places with big aperitivo buffets and places that craft great drinks.
AUNIE'S TOP 5
1. BISTRÒ  DEL TEMPO RITROVATO (Neighborhood: Parco Solari)
Perhaps its because I go there at least 3 times a week, or because the staff are so friendly and feel like family and let me play their piano on lazy Sunday afternoons…there are many reasons why this place is my absolute favorite spot to relax and wind down after work. In addition to also being a cozy bookshop, there are also vintage film nights, poetry readings and every now and then, live jazz performances. The aperitivo varies daily but maintains a high standard when it comes to flavor and variety. Herb roasted artichoke cous-cous, cured Italian meats such as salami, proscuitto, bresaola, a variety of cheeses, smoked salmon and cheese on artisinal whole grain toast, bruschetta and spinach quiche are just a few of their offerings. In addition, they make a great Aperol Spritz.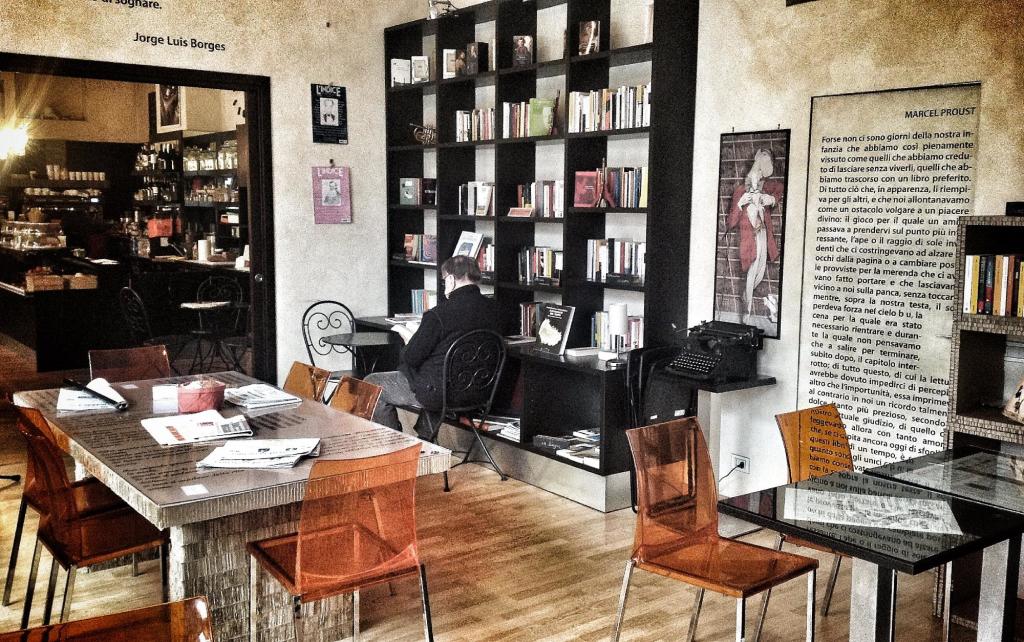 ---
2. CAFÉ MARC JACOBS (Neighborhood: Brera)
Located in front of a beautiful 14th Century Church, Milan's Bera district Café Marc Jacobs is part clothing store, part book shop, part lounge bar. They serve up a nice spread of "gourmet aperitivo" along with nicely mixed cocktails. In the warmer months, it is really lovely to sit outside in Piazza del Carmine while people-watching and enjoying the fresh air and view of the church – Santa Maria del Carmine.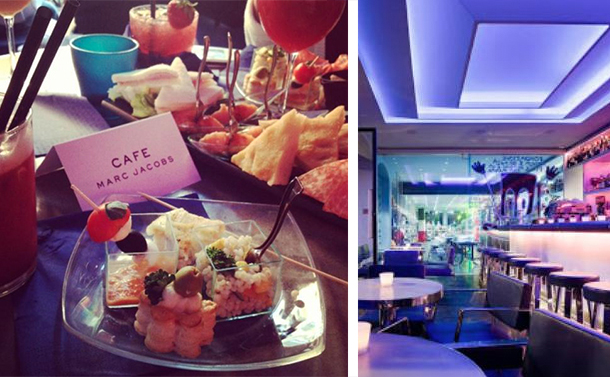 ---
3. BRERI (Neighborhood: Brera)
Cozy and  shabby-chic, Breri features typical cuisine from Puglia. The owner Andrea is usually there mingling with his customers making sure everybody is happy. The food here is really delicious. If you want delight your tastebuds while indulging your inner glutton, skip the long line full of tourists at Luini and come here instead for a less greasy and more delicious panzerotti. Breri serves up Puglia's signature dish, orecchiette con le cime di rapa, pasta cooked with turnip greens as well as the famous casserole with potatoes, rice and mussels served in earthenware bowls. When the weather gets cold outside, nothing beats ordering a few of these "tapas" size dishes to accompany your wine. Breri has 5 – 6 platters for aperitivo however I strongly recommend also trying a few of their other specialties.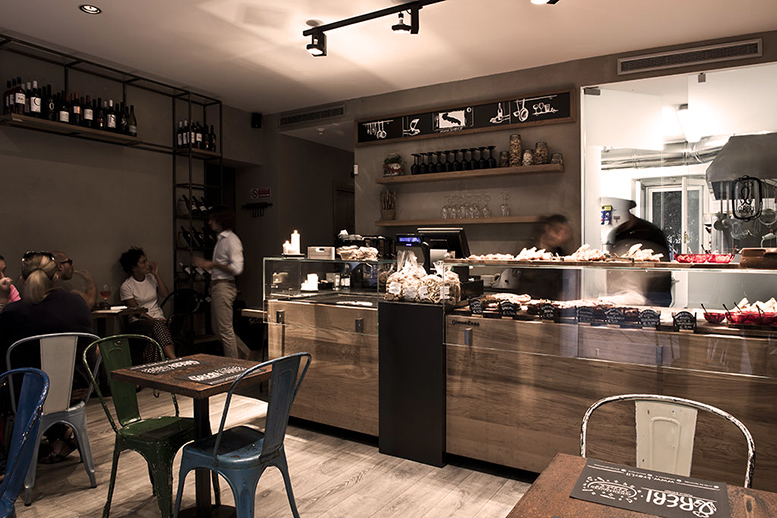 ---
4. CERESIO 7 (Neighborhood: Garibaldi)
Trendy, 1950's Vintage, Popular place to spot local celebs. Lounge by the roof-top pools and enjoy panoramic views of the city. Varying degrees of pretentiousness by patrons (never staff, the staff are really nice) Who's who of Milan come here wearing couture from the latest season. Last season's will be critiqued and scorned. Bitch alert. Big ego alert. Even so, the uniquely crafted cocktails are quite exceptional. There's nothing like wathcing the sunset after a long day and dipping your feet in the pool while sipping on a cardimom and pear cocktail. Wait staff bring the aperitivo to you while you relax and catch up with good friends. And yes – as long as you're in good company, the pretentious divas could fall off the roof for all you care. To truly experience the vibe of Milan, a cocktail here is a must.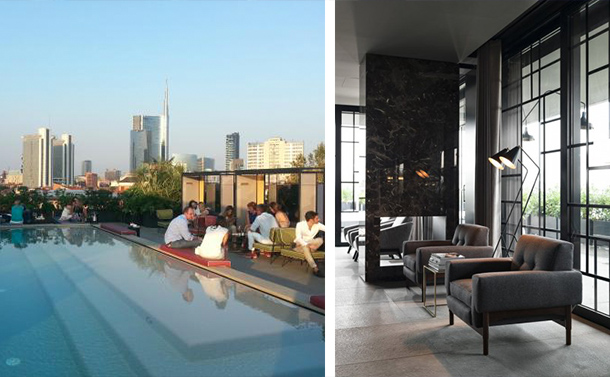 ---
5. DESEO (Neighbohood: Parco Sempione)
Popular after-work spot for young working professionals. Nice atmosphere and large aperitivo buffet (12-14 dishes). Outdoor seating in warmer months with a nice view of the Arco della Pace. This place is classy and the crowd is mostly between mid 20's and 30's. The buffet is pretty generous, with about 12-16 dishes. There is even a bathroom concierge aka: Guy who stands there giving you towels, perfume, lotion, deodorant, mints, basically everything minus wiping you. So it would behooves you to give him a little tip even if its pocket change. Because well, he's not enjoying the aperitivo bar upstairs is he? Deseo takes reservations for 10 people or more which is really handy for Friday and Saturday nights. The warm candle-lit interior coupled with down-tempo lounge music creates a really nice atmosphere.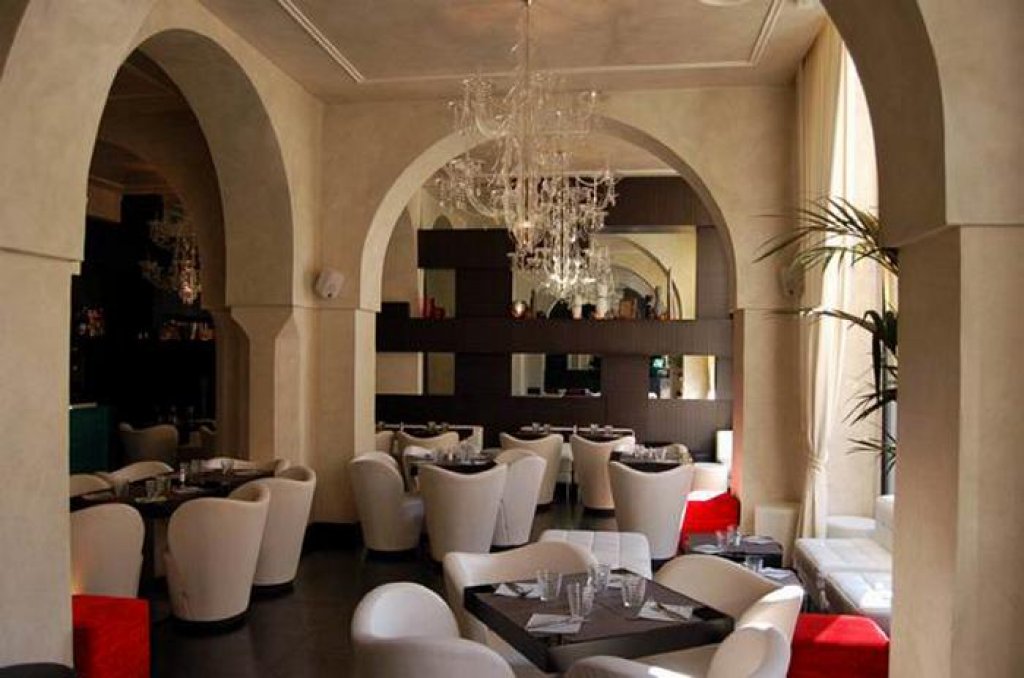 ---
YOU'RE REALLY HUNGRY
MAYA (Neighborhood: Navigli)
This is the place for you if you are looking for a large variety of drinks and aperitivo-style dinner. Maya is festive, noisy and good for the grumpily and famished. €10 gets you a drink with full access to the large aperitivo buffet (20-24 dishes) which is served daily and includes dessert consisting of a chocolate fountain fruit and coffee. Blended fruit cocktails that remind me of the Rainforest Cafe or Hard Rock are quite popular. Personally, I prefer the Moscow Mule here. Attentive staff on head-sets make sure traffic in and out is smooth and that the space is filled to max capacity. Not exactly an "intimate" place but I promise you will not leave hungry. You'll find everything from seafood paella to a variety of pasta dishes, marinated beef, chicken, eggplant parmisan and grilled vegetables just to name a few. Enjoy the river view of the Naviglio Pavese in Maya's outdoor lounge which stays put throughout most of the year. Even in the winter, there are heat lamps that keep you quite warm.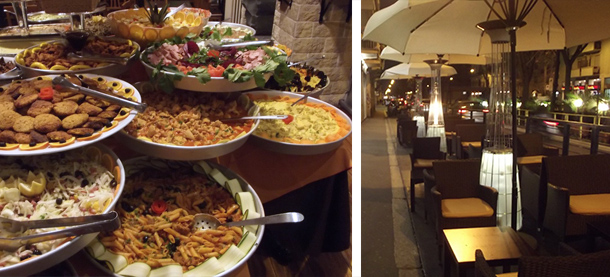 ---
LA HORA FELIZ (Neighborhood: Centro Storico)
Another really popular after-work spot. Cost of Aperitif drink and all-you-can-eat aperitivo buffet is €10. Plenty of variety in the dishes which consist of: salads, focaccia, ravioli, chicken, meat, rice, couscous, grilled vegetables, etc. Wait staff bring large trays out to you with specialty pastas such as gnocchi and tortellini and sliced beef. There is also a dessert table that serves a lot of fruit, cheese, cookies and tiramisú. Like Maya, at times this place is noisy and can get really crowded. It's always easier to go in groups of 4 or less for faster seating.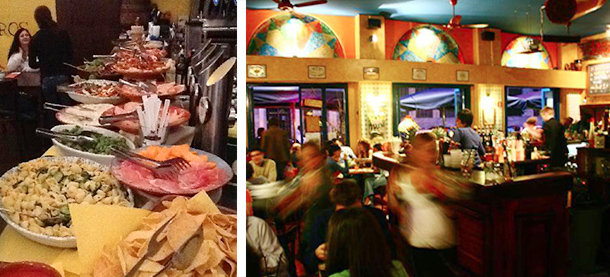 ---
STRARIPA BAR (Neighborhood: Navigli)
Not many restaurants and bars can boast a vintage Fiat serving table but this place certainly can. Enjoy 20-25 different dishes while listening to the house band play dixie, jazz and vintage classics. Interior has exposed brick walls and low-lighting. The bar staff are always really friendly and take your drink orders quickly. Outdoor seating with a view of the river is available in warmer months. Cost of aperitivo here is between €10 to €12 depending on type of drink.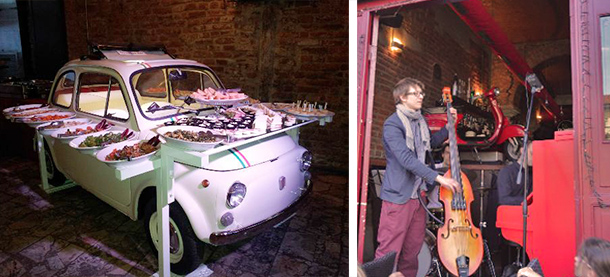 ---
NICE AMBIENCE & ARTISANAL COCKTAILS
MAG CAFE (Neighborhood: Navigli)
There is a unique atmosphere that grabs you the moment you walk in. The decoration, the bar, the instruments they use.. its all quite alluring… Handsome barmen dressed in classic haberdashery take between 8-10 minutes crafting your drink. Let me just tell you – your cocktails are well worth the wait. These guys are skilled and have spent a lot of time perfecting their techniques which can be really entertaining to watch. When the wait staff hands you a book it's because the drink menu is hidden in it. I recommend the Aviation which is  made with gin, lemon juice, maraschino liqueur and crème di violette.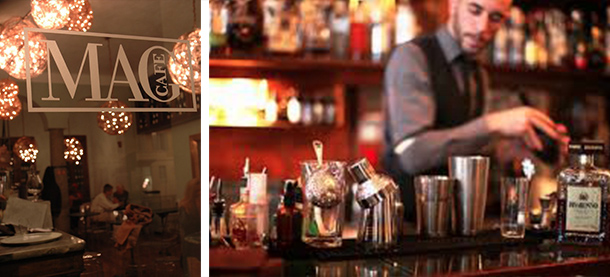 ---
NOTTINGHAM FOREST (Neighborhood: Porta Venezia)
Recently ranked #15 out of 50 best bars in the world, Nottingham Forest is ideal for an aperitif or after dinner. The creative cocktails are the work of owner, Dario Comini who founded the molecular mixology scene in Milan. The bar is small, dark and intimate, decorated with collectables from Dario's travels around the world. Syringes, test tubes, dry ice and atomizer are just some of the tools made available to the bartender and customers to reach the right chemistry. Vodka with pearls, cocktails with absinthe, even drinks inspired by Feng Shui featuring precious stones and diamonds can be ordered here. The bar snacks are no less extravagant, try the shark carpaccio or the fried scorpion. It is easy to miss the entrance but during the evenings there is always a line outside.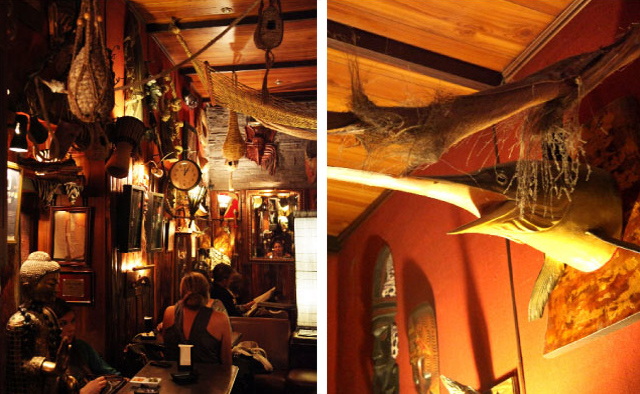 ---
 LES GITANES BISTRO (Tortona District)
Fornasetti 1950's French Decor. Very chic, classy place to go before nice dinner (or have dinner there as well – highly recommend the lamb chops and gamberi rossi tartare) Small aperitivo buffet (4-6 dishes) Delicate cocktails are served in a space that feels like a friend's living room. The space provides a great meeting place for discussion due to it being not so loud like most other bars in the area.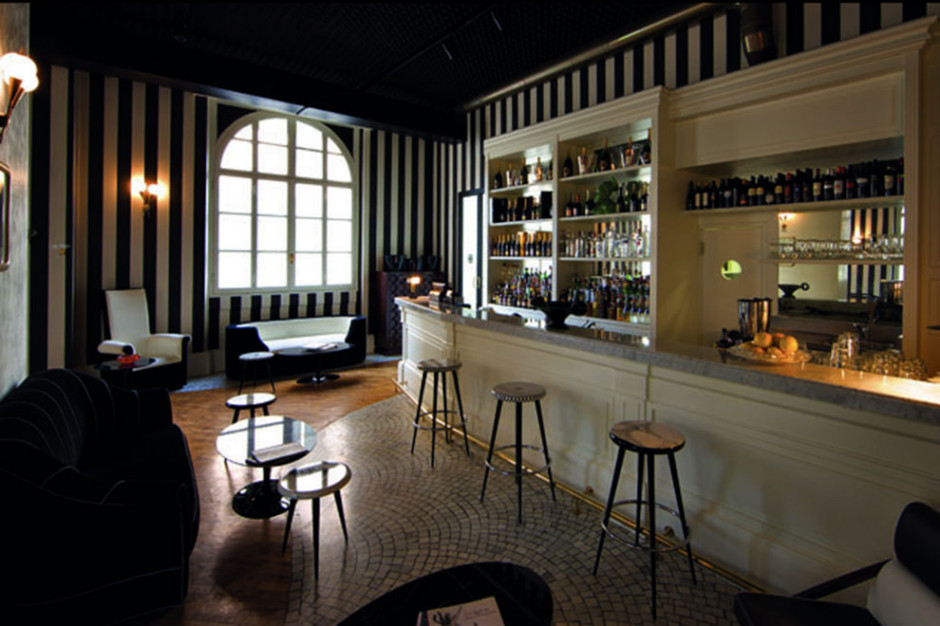 ---
 DEUS EX MACHINA (Neighborhood: Isola)
The name taken from the Latin phrase meaning "God from the Machine," this unique place is a chop shop-style restaurant, attached to Deus Ex Machina store which sells retro custom-made bikes, as well surfboards and fashion items. There's a nice outdoor area and warm wooden interiors with colorful accents from 1950's Americana. The burgers here are pretty legit. The aperitivo buffet consists of about 6-8 dishes in front of the very-equipped bar.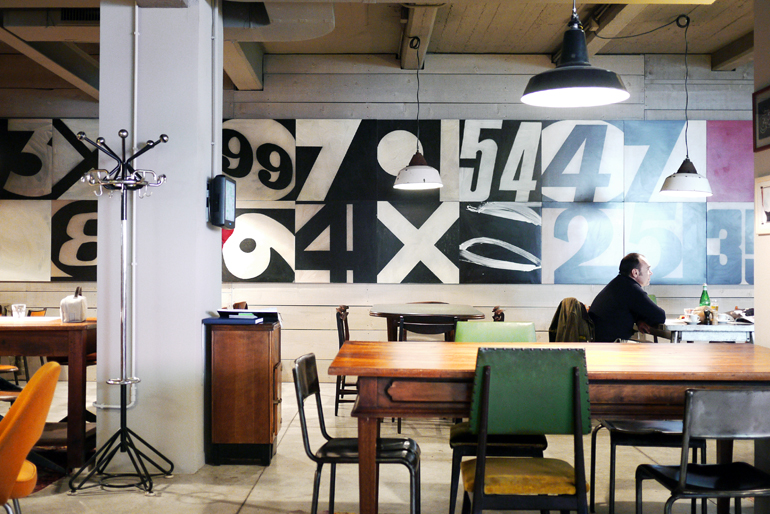 ---